Undoubtedly, West Auckland is a heavenly place everyone can adore. The untamed beauty of the remote and wild West along with the lush rainforests of the Waitakere Ranges can bring out the best in you.
Furthermore, West Auckland has New Zealand's best markets, and food courts where you shop and eat, while getting allured by the beautiful nature that walks with you on every step. In case you have missed the memo of things to do in West Auckland, or you aren't sure what to watch and where to go, we have got you covered.
Here are a handful of tourist attractions and must-see destinations you cannot afford to miss if you are visiting West Auckland, New Zealand:
Got an event? – List your activities and events with us!
01: Breathe in the Cool Breeze at Piha Beach
We couldn't put the top things to do list together without mentioning Piha. Piha Beach is one of West Auckland's most popular surf beaches. Perfect for surfers and paddlers, but please follow the lifeguard's advice, read any signs and notices, as it can often get dangerous out there pretty quick. There is a lot to do and watch around Piha Beach such as the famous Lion Rock that distinguishes the Little Piha from Piha Beach. The Lion Rock is the most iconic landmark in the seaside village of Piha in the west of Auckland.
You can enjoy the mesmerizing and stunning views of the Maori carvings, and Piha's steep track that goes up straight to beautiful heaven.
Piha is one of the West Coast's biggest gems.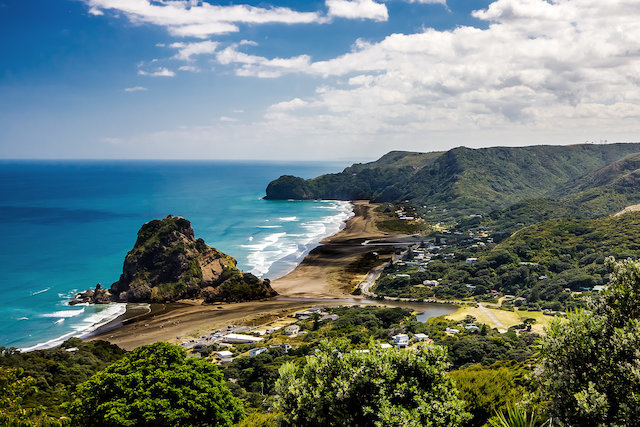 02: Say Hello to the Tall Trees with Tree Adventures
West Auckland is famous for its native forests that have lush green trees that are meters long and feel that they touch the sky. Get the tree adventure course at Rolling Green Hills and experience the thrill of climbing and dangling from the humongous trees. Cross various man-made obstacles and activities, and swing through the ropes to spend an exciting day while testing your strengths at Tree Adventures.
03: Enjoy your shopping at West Auckland's Village Markets
West Auckland has a lot to offer, especially if you are new to New Zealand, and it is your first visit. Don't miss to visit and shop at these famous village markets in West Auckland:
Explore the Titirangi Village Market that is famous for its variety of prepossessing crafts that can be a perfect gift for the people waiting at home for you to be back from the trip.
You will find a range of art and culture – handmade jewelry, craft, ceramics, furniture, and a plethora of items that the West is popular for. Note down, that the market is open only on the last Sunday of the month, and the venue is Memorial Hall on South Titirangi Rd.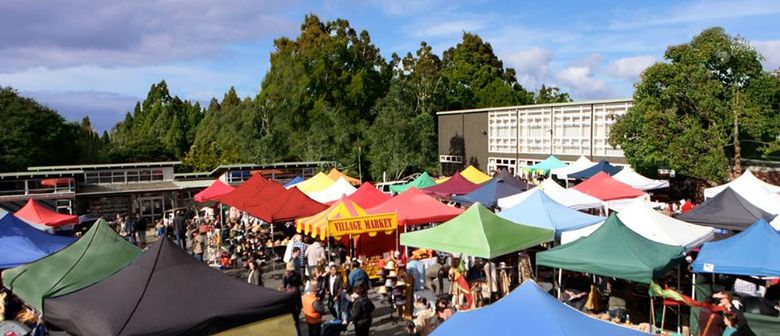 Fresh Finds MarketplaceLocated in New Lynn, Fresh Finds Marketplace is a child-friendly community offering a variety of handmade crafts, natural and organic products, farmer market stalls, and free kids entertainment.
Blockhouse Bay Village MarketIf you are a plant-lover, Blockhouse Bay Village Market is an ideal place for you. It offers a variety of stalls selling plants and flowers, handmade soaps, and garments.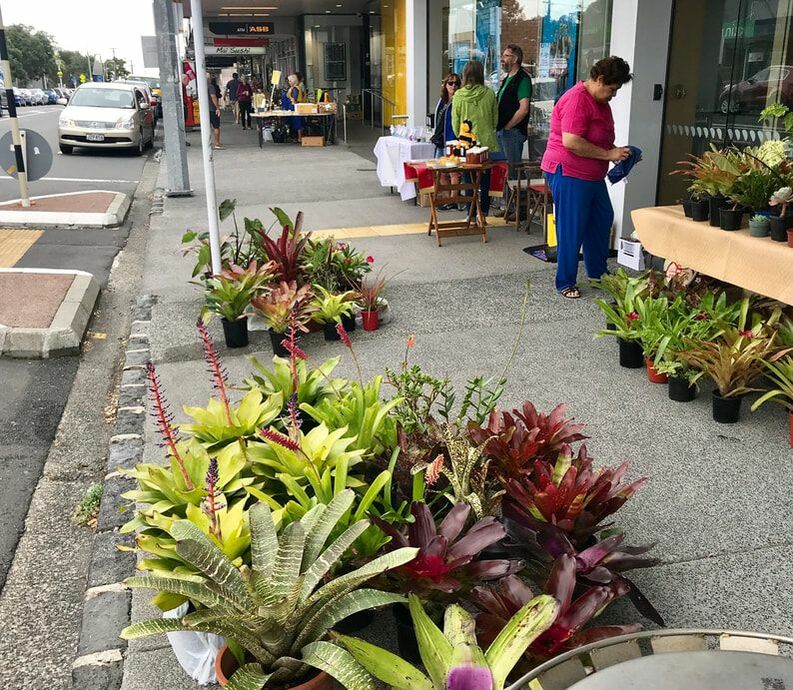 Te Atatu Night MarketTreat your Friday night with awesome street foods, handmade crafts, shop for vintage items, kid's clothes, plants, and jewelry at Te Atatu Night Market.
Coatesville Village MarketCoatesville Markets offers a variety of fantastic foods and home-made New Zealand wares, garden sculptures, and several items of clothing.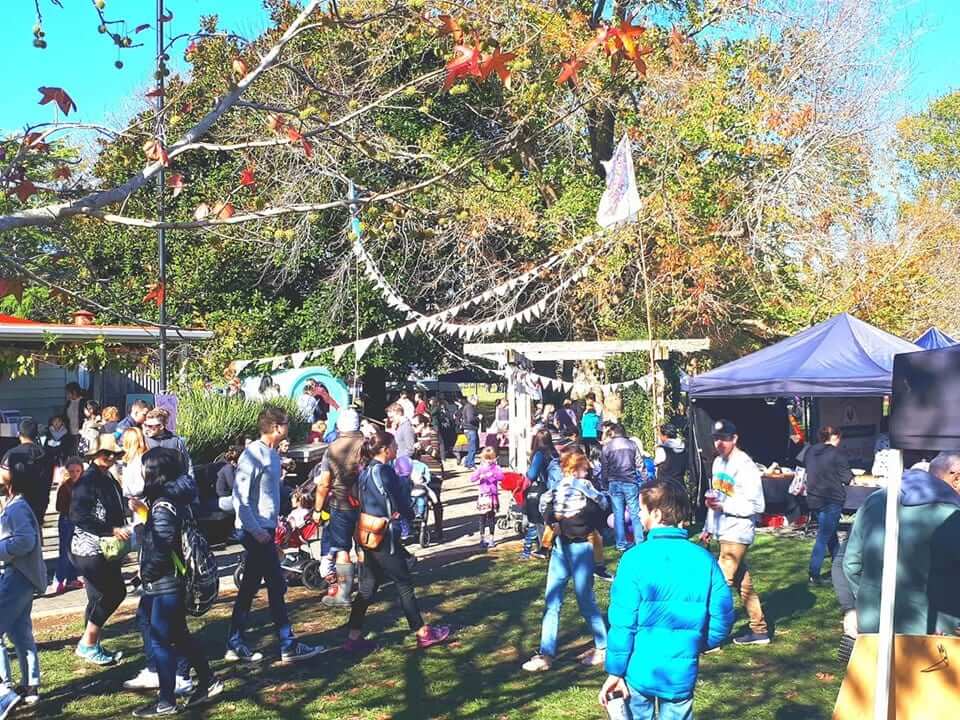 04: Indulge in Some Luscious Food – Cafe, Bar, Restaurant, You Name It!
Eating with your favourite people all around could be the next best thing to do in West Auckland. While exploring the beautiful markets, you will find a multitude of popular restaurants that you can dine-in enjoying the famous cuisines of New Zealand.
05: Cater to Your Taste Buds with Some of the Best Wine in New Zealand
Without a pint of wine, your trip to West Auckland may seem incomplete. West Auckland is famous for its wineries that brew the best selection of award-winning wines. Visit the Kumeu wine country to sip and dine and enjoy breath-taking views. Another place to visit is the Awa Valley Vineyard that lets you set up your picnic table while enjoying a BBQ with some fine wine. There is much more to be found in Kumeu's wine region including Coopers Creek Vineyard.
The specialties offered at the Vineyard are Mables, Merlot, Pinot Noir, and Chardonnay. There are plenty of wineries in West Auckland that you can visit if you love different wines. Definitely a priority to add to your list of things to do in West Auckland!
06: Pick Some Strawberries and Enjoy Tasty Strawberry Ice Cream
If you want to spend some memorable time with your family, visit the strawberry farms in the West, where you can pick strawberries in the ripening season. Furthermore, it is a great place to enjoy mouth-watering strawberry ice creams that are only available in Kumeu.
The place offers a multitude of smoothies with the rich flavour of strawberries. Also, you will find tasty coffees and meringues. Get a comfy bean bag and find your place listening to some good music while adoring the beauty of West Auckland.
07: Explore Bethells Beach – One of Auckland's Finest
You might have heard about Bethells Beach as it is one of the more popular west coast beaches where international filmmakers come to capture some scenes in the wild. The place is well-known for the Xena: Warrior Princess Series which was shot around the outskirts of Bethells Beach.
The entire landscape around the beach looks like it has landed directly from heaven, and there are limitless locations to capture Instagramable pictures for the perfect summer selfie, and loads to explore if you are a nature-freak.
08: Get On Your Kayak at Lake Wainamu
If you have some plans to visit Bethells Beach, don't forget to stop at Lake Wainamu! Lake Wainamu is not known to everyone, and that's what makes this place a special one if you love privacy and need to spend some time with your friends and family. The place is perfect for kayaking and swimming.
The beautiful lake surrounded by the hills is perfect for swimming around while enjoying the serene views. Don't forget to rent a kayak or a bodyboard when visiting lake Wainamu. The best thing about the place is the secret waterfall that you will surely find while bodyboarding around the area.
09: How Can You Miss Skydiving in West Auckland
If you have the courage to jump out of an aeroplane and fall to the ground at a speed of 200km/h or more, go skydiving in West Auckland. This is one of the more epic outdoor adventures you can do in West Auckland. You will find the skydiving centre in the North Islands. The spectacular and stunning views of the area and the sky-high peaks can add a lot of joy to what you will experience skydiving.
10: Rent a Bike and Follow the Mountain Biking Tracks
You can rent an MTB to ride along the 100km long purpose-built bike tracks around the Woodhill Forest. No matter if you are a serious biker or a recreational one, you can spend time biking on the mountain while pedaling on some steep areas that let you test your strengths. Be sure to check out Woodhill mountain bike park on your next trip out to West Auckland.
11: Not a Fan of Bike Riding? – How about A Horse Then!
If you don't think biking in the Woodhill forest out West is a good idea, then riding a horse surely is! You will find horse trekking around Muriwai Beach that has plenty of other things to do. Explore the area on a horse while pampering your feet.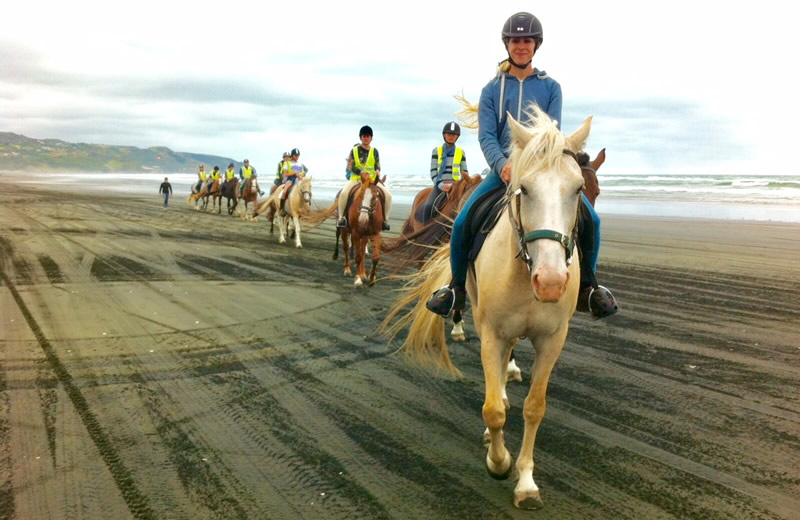 12: Let Your Furry-Friend Enjoy a Day
Just one bay away from the Cornwallis you will find the Kakamatua Inlet. Park your car, and walk through the bush to find an enchanting beach with a long stretch that's perfect for an evening walk. Also, it is an area where you can get off the leash of your furry-friend, so it's the area where you can play throw and fetch games.
13: Take a Walk Back in Local History
Just a few kilometres away from Titirangi, you will find the Arataki Visitor Centre. Paying a visit to this centre is worth the time as you can enjoy the spectacular views of the Waitakere Ranges, and Distant Coast, while also taking a walk to see the beautiful and enormous Kauri trees.
Further, the place showcases the Māori architecture and has several exhibitions spread across acres. If you want to learn something about West Auckland, this is the place you need to visit on your trip.
14: Learn Surfing at the Muriwai Surf School
Well, you might not have thought of learning anything at West Auckland, but learning to surf is something you cannot miss. Rent a car and head to the Muriwai Surf School to learn surfing from professional instructors. The school is open for lessons from 10:30 AM to 3:00 PM where you can learn surfing with a group of newbies before you try out your skills on the waves of West Auckland's amazing surf beaches.
15 Watch the Beautiful Colony of Gannets at Muriwai
If you love birdwatching, then Muriwai Beach is one of the best spots you need to visit in West Auckland – We seem to talk a lot about Muriwai right?! After learning surfing from the professionals, you can visit the beach to watch beautiful gannets. Muriwai Beach is a popular tourist attraction for surfers and nature lovers.
Further, the place has colonies of gannets with umpteen nests on the cliffs. The bird watchers can enjoy viewing the gannets feeding their little chicks, and flying all over the sky searching for food.
16 Love Organic Fruits? Head to the Catalina Bay Farmers Market
The Catalina Bay Farmers Market is held on every Saturday and Sunday where the local farmers of the area gather to sell their organic produce. You will see beautiful stalls with a myriad of items being offered, such as bread, coffee, kombucha, cheese, teas, and handmade gifts.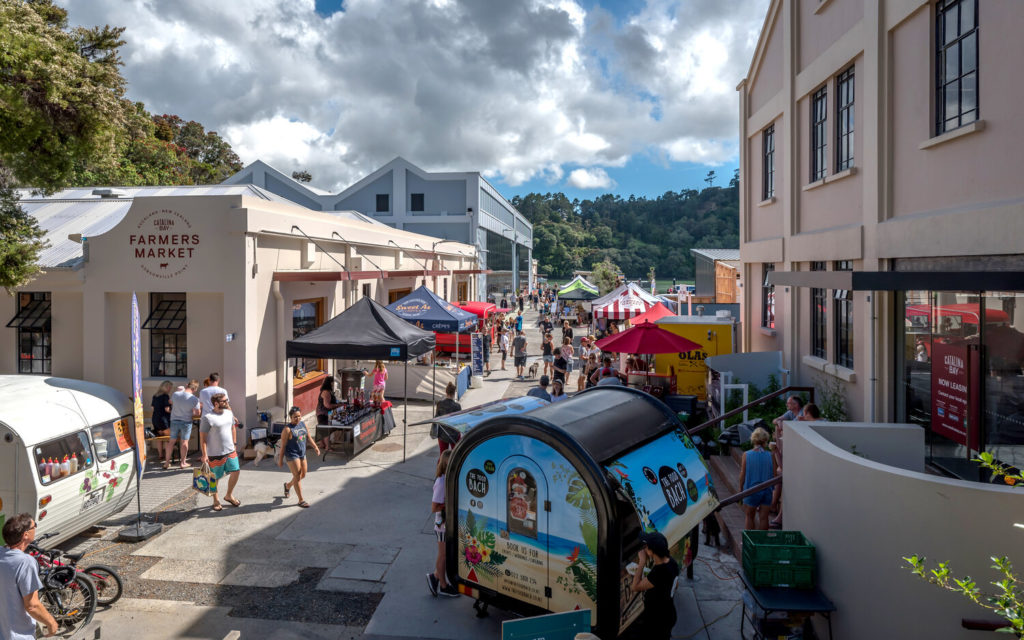 17: Play With Your Friends and Family at Woodhill Paintball
Get a mask and combat suit to get ready with your paintball gun. You will find multiple settings such as the Woodhill Paintball such as the base camp that'll give you the feel of playing a real-life video game where you are the epic action hero. Guard your sacred pyramid against the raiders, and shoot them with paintballs.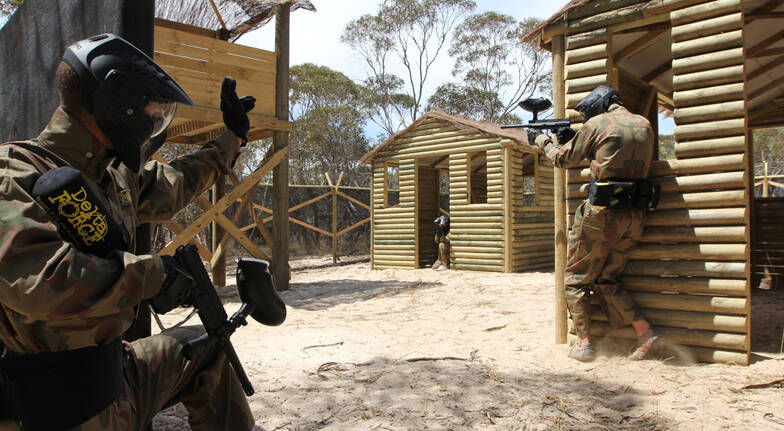 18: Quirky, Awesome, & Just Plane Interesting
Looking for something a little less adventurous? Why not head over to Just Plane Interesting in West Auckland. Antiques and collectibles must-visit locations for finding some amazing things. The staff are wonderful and have some great stories to tell about the items in the store. While you're there, you can also plan a stop off for lunch at Bodega Eatery, an amazing local restaurant with some delicious foods.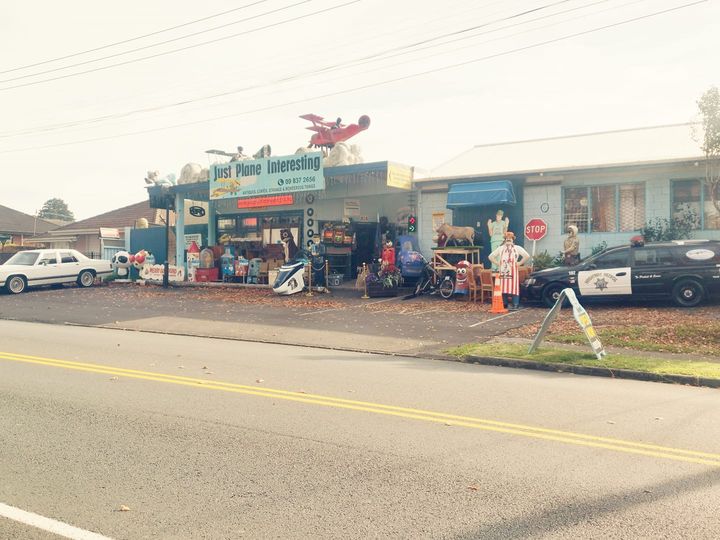 Takeaway!
There is so much more to explore out in West Auckland, and we're just scratching the surface for things to do, be sure to support local businesses while out and about enjoying the best of West Auckland, New Zealand. The West has some of the best-hidden places where you can spend quality time enjoying the beauty of nature and admiring the architecture.
There's a lot you can do in West Auckland. Please book accommodation, hotels, and tickets for specific activities, and plan ahead to save time, and head out West to enjoy all of what it has to offer! If you are looking to explore the wider Auckland area there are many things to do in Auckland for everyone to enjoy as well.
Plan and book your trip today!